Community Server
Full Community Server Support, Cheap Community Server Hosting, Build your own community site using Community Server, Build Blog, Forums Website with Community Server CMS, Very Popular ASP.NET Community Software, MSSQL 2000, and MSSQL 2005 Web Hosting, and Classic ASP Web Hosting, PHP and MYSQL Hosting.
Community Server Web Hosting
Community Server Web Hosting Requirements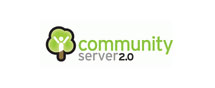 Client needs to ensure that his hosting package does have one new MS SQL 2005 database, MS SQL 2008 database or MS SQL 2012 database available for the installation. Without the accessibility of the MSSQL database, the free installation will not work and hence, your Community server cannot be installed. It also requires Windows 2003 hosting with IIS 6 hosting compatible, Windows 2008 hosting with IIS 7.0 hosting
What is Community Server?
Community Server is an online community application built with ASP.Net which includes forums, blogs, photo galleries, and more. It is used to power some of the web's top websites. Its current platform includes: a discussion system, blogging system, photo gallery system, user profile management, advanced permissions system, extensible theme engine, and much more.
What are the Advantages of Community Server?
You are able to manage your site using a built in control panel that allows you to manage your forums and members. It allows you to have your site up instantly with a Home Page, Blogs, Forums, Photo Galleries, and Files. You have full access to all of your files so you will be able to fully customize your site.
Why Choose Community Server Web Hosting?
Telligent Community Server is the proven enterprise social platform of choice. Trusted by Microsoft, Dell, MySpace and Intel, Its proven social software powers some of the largest and most demanding online communities in the world.
Why Community Server Web Hosting with Us?
Our hosting plan support automated Community Server installation.
Every website is hosted using Isolated Application Pool in order to meet maximum security standard and reliability
24/7/365 Technical and Email support from our Community Server Expert
Managed Backup / Recovery of customer data - Our company backs up all data daily and is available for recovery at anytime at your request
Fast and secure MSSQL and Web servers give you maximum reliability and performance
Fast and dedicated customer service second to none in the windows reseller hosting industry
We have wide-ranging experience with DotNetNuke hosting and troubleshooting
SeekDotNet.com ASP.Net hosting is compatible with the Community Server hosting management and collaboration application
What are the features of Community Server Web Hosting?
Designed for performance
For years this application has been the favorite option of numerous small and large organizations; For example, Microsoft uses this impressive application for running many of its community oriented sites (such as blogs.msdn.com)
Designed to be secure
From its SQL Server backend to its ASP.NET front-end and all the components in-between, Community Server has designed to be secure "out of the box", but also a platform upon which companies can confidently share secure and private information.
Extensible Feature
With a skinning and theme system adopted by many other .NET applications, Community Server Hosting allows for unparalleled flexibility with the end user interface. Now with the addition of its modules you can now also use a rich set of extensible components and add-ons to do even more with your system.
Community Server Web Hosting Plan
Personal Windows Hosting
Price from $3.98
Suitable for personal website
Free Software Installation
Free DotNetPanel Control Panel
Server specification:
Max.

300

shared clients on the server
24/7 Support
Business Windows Hosting
Price from

$7.98

$6.38*
Suitable for company website
Hosted on robust and stable server
Server specification:
Max.

120

shared clients on the server
Superior Performance
24/7 Support
Scroll